The so called island of flowers lays 737km off the marrocoan coast and 939km from Lisbon, making it a top tourist destination in Europe – for a good reason. On 741 km2 Madeira offers stunning beaches, lush forests, fresh waterfalls and due to its subtropical climate warm temperatures all year around. 
Here are my top tips for planning your holiday on Madeira, as well as my top 10 things to do in Madeira and some Café and Restaurant recommendations.
When is the best time to visit Madeira?
How to get to Madeira?
What you need to know before you come to Madeira!
Top 10 things to do in Madeira
Café and Restaurant recommendations
When is the best time to visit Madeira?
Madeira's subtropical climate offers reliable sunshine almost all year round. While temperatures can reach 30 ºC in the summer months, the winter months tend to be characterized by rain and storms. Nevertheless, there is a constant mild climate throughout the island, which is controlled by small microclimates. That is, when it rains and storms on one side of the island, the sun may be shining on the other. 
The average daily temperature is 19 ºC in the winter months and 26 ºC in the summer months. The water temperature varies between 17 ºC from December to March and 22 ºC from April to September. 
If you want to avoid the tourist crowds, you should plan your trip to Madeira in the low season months from January to May and September to December. In general, Easter, the summer holidays and Christmas/New Year are the months with the highest tourist turnover on the island. 
How to get to Madeira?
The easiest and most comfortable way to get to Madeira is by plane. There are direct flights from most European cities. However, it can be cheaper with a stopover in Lisbon or Porto. Flights from Lisbon or Porto are offered daily, and the flight time is about 1.5 hours. Note that flights are often cancelled due to strong winds that make it difficult for planes to land safely.
Ferries to Madeira operate only between the neighboring island of Porto Santo (2-3 hours) and the Canary Islands (14 hours), not from the mainland.
Cruise ships dock daily in the port of Funchal.
What you need to know before you come to Madeira!
RENT A CAR
In recent years, Madeira's infrastructure has been improving. The best way to explore the island is by car, as the roads are quite narrow and the buses take a long time to get from one place to another. Moreover, the roads to most of the famous viewpoints are hardly used by buses. So far, the road network connects the south and the north of the island through tunnels, so you can do a round trip by car in about 1.5 hours. If you have the choice of a car, I would strongly recommend taking a small car. 
ACCOMODATION
Funchal has by far the most accommodations. From hostels to affordable Airbnb accommodations to 5-star resorts, you can find everything here. Depending on your planned trip, I would recommend staying in Funchal for at least a few days. Why? – From Funchal you have access to most of the main attractions, Levada walks and hikes. Pico do Airiero is a 20-minute drive from Funchal. The nearest smaller towns of Câmara de Lobos and Caniçal are only a 15-minute drive away. If you prefer to stay outside the city, I can recommend both Caniçal and Câmara de Lobos on the south side. On the north side, Porto Moniz, Seixal or Porto da Cruz invite you to a relaxed and quiet environment. 
CURRENCY
The local currency is the Euro €. Most restaurants, supermarkets and stores accept payment by credit card. However, I recommend always having a small amount of cash with you, as only cash is accepted, especially in the more remote parts of the island.
LANGUAGE
The main spoken language is Portuguese. But the majority of Madeirans also speak English, sometimes German and Spanish.  
Top 10 things to do in Madeira
1. Visit Câmara de Lobos
About 5 km from Funchal is the small fishing village of Câmara de Lobos. It became famous because Winston Churchill spent his vacation in this small village. Câmara de Lobos is characterized by the colorful fishing boats in the harbor and is the home of the "Poncha", a drink made from freshly squeezed lemons, honey and sugar cane brandy.
2. Watch the sunrise/sunset at Pico de Ariero
Pico de Ariero is the third highest mountain in Madeira with an altitude of 1,818 meters above sea level. The picturesque mountain range offers a breathtaking 360º view that reaches all the way to the Atlantic Ocean. Due to its easy accessibility, it is one of the most popular places on the island. Especially at sunrise, it can get very crowded here. From Pico de Ariero you can also start the famous hiking trail PR1 Vereda do Areeiro, which leads to Pico das Torres (1,851 m) and then ends at the highest peak of the archipelago, Pico Ruivo (1,862 m).
3. Visit the second highest cliff drop off in the world: Cabo Girão
At a height of 580 meters, Cabo Girão offers a breathtaking view of the Madeira coast. The nearby skywalk is free to enter and a gondola next to the viewpoint will take you down for about €10. 

4. Go diving at the Corveta F488 or in the Nationalpark Garajau
Madeira is not necessarily known as a diving destination. Nevertheless, it offers divers marine life and wrecks that want to be explored. The excellent visibility and warm water temperatures (between 18 ºC and 24 ºC) make diving possible all year round. A detailed guide about the diving spots will be published here soon!
5. Do a dolphin/whale watching tour
Dolphins can be seen all year round about two miles outside Funchal harbor, while the best time to see whales is between April and October. I highly recommend booking a tour in advance as they tend to get booked up pretty quickly. Note that this is a WATCHING TOUR – you will not be able to get in the water with the dolphins or whales.
6. Walk the famous Levadas
Levadas (from Portuguese levada – to carry) are a system of canals that carry water from the mountain tops to the fields. The total length of levadas in Madeira adds up to 2500 km. One of the most popular levada walks is PR6 Levada das 25 Fontes, which leads to the impressive Risco waterfall that rises from the lagoon. My favorite levada is PR9 Levada do Caldeirão Verde, which is about 6 km to the waterfall and 11.7 km in total. You walk amidst dense jungle, breathtaking small waterfalls and a fantastic view like in Avatar.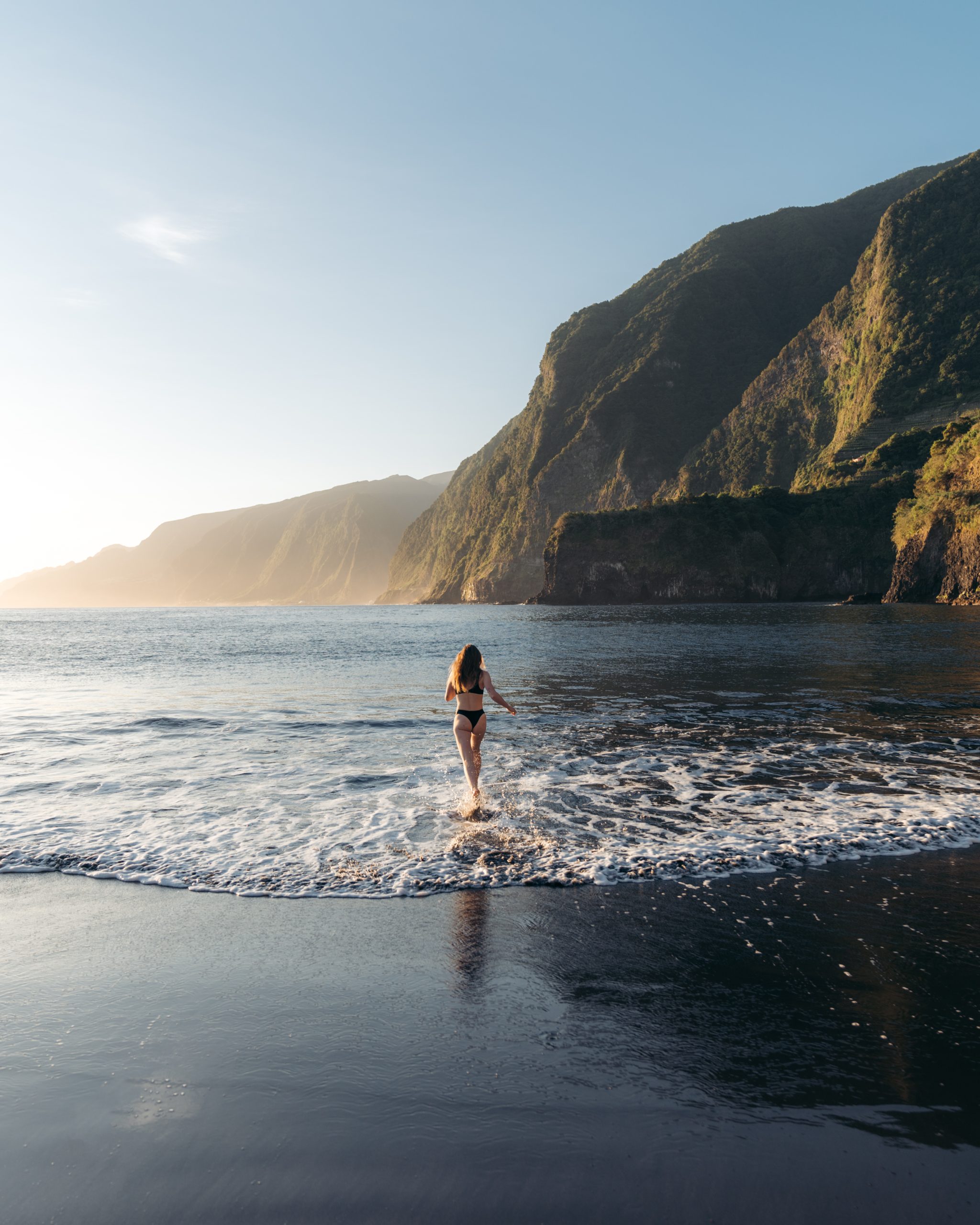 7. Visit Seixal beach and swim in the natural pools
Seixal beach is located on the north side of the island and offers a soft sandy beach with a rugged cliff in the background. This is one of the few sandy beaches on the island, making it more attractive to most tourists than the rocky beach on the rest of the island. A perfect place for a swim at sunrise! Don't forget to try the nearby natural pools as well.
8. Walk the ridge of São Lourenço
São Lourenço is the most northeastern tip of Madeira. The viewpoint from the parking lot is a famous spot for photographers to watch the sunrise, but I would also recommend hiking over the ridge for sunrise. It is a 7 km hike (2-3 hours) with a number of beautiful viewpoints. The trail is very well signposted and well defined, making it easy to navigate.
9. Visit Funchal
Funchal is the capital of Madeira Island. Covering an area of 76.25 km2, it has a lot to offer – from museums to botanical gardens and historical sites. The Mercado dos Lavradores (Farmers' Market) is an open market where you can buy all kinds of Madeira specialties, fruits and vegetables, as well as fish and meat. It is very popular because of its colorful and lively environment. Note that the prices are much higher than in the usual supermarkets.
Monte Palace Tropical Garden is one of the few botanical gardens in Funchal. With its ponds, exotic trees and a mineral museum, it is worth spending a few hours in this garden. You can reach the garden by cable car that stops right in front of the entrance.
10. Explore the laurel forest Fanal
The Final Forest is located in the northwest of the island and has been a UNESCO World Heritage Site since 1999. Due to the subtropical climate on the island, the forest is often in fog and haze. This creates a magical, but also spooky atmosphere when you are there. Even when it is not foggy, the whole area is huge and offers a beautiful view of the Atlantic Ocean from the cliffs.
Café and Restaurant recommendations
Budget-friendly with an amazing view 
'Barreirinha' is located above Funchal's old town, overlooking Funchal harbor and the Garajau nature reserve. You can choose from homemade (vegetarian) burgers, burritos, toasts and a variety of salads. The average price for a burger meal is €7-9 including salad or fries.
𖡡 Largo do Socorro 9060-291 Santa Maria Maior, Funchal, Madeira 9060-305 Portugal 
TIP: Live music is played on the weekends. I would recommend reserving a table.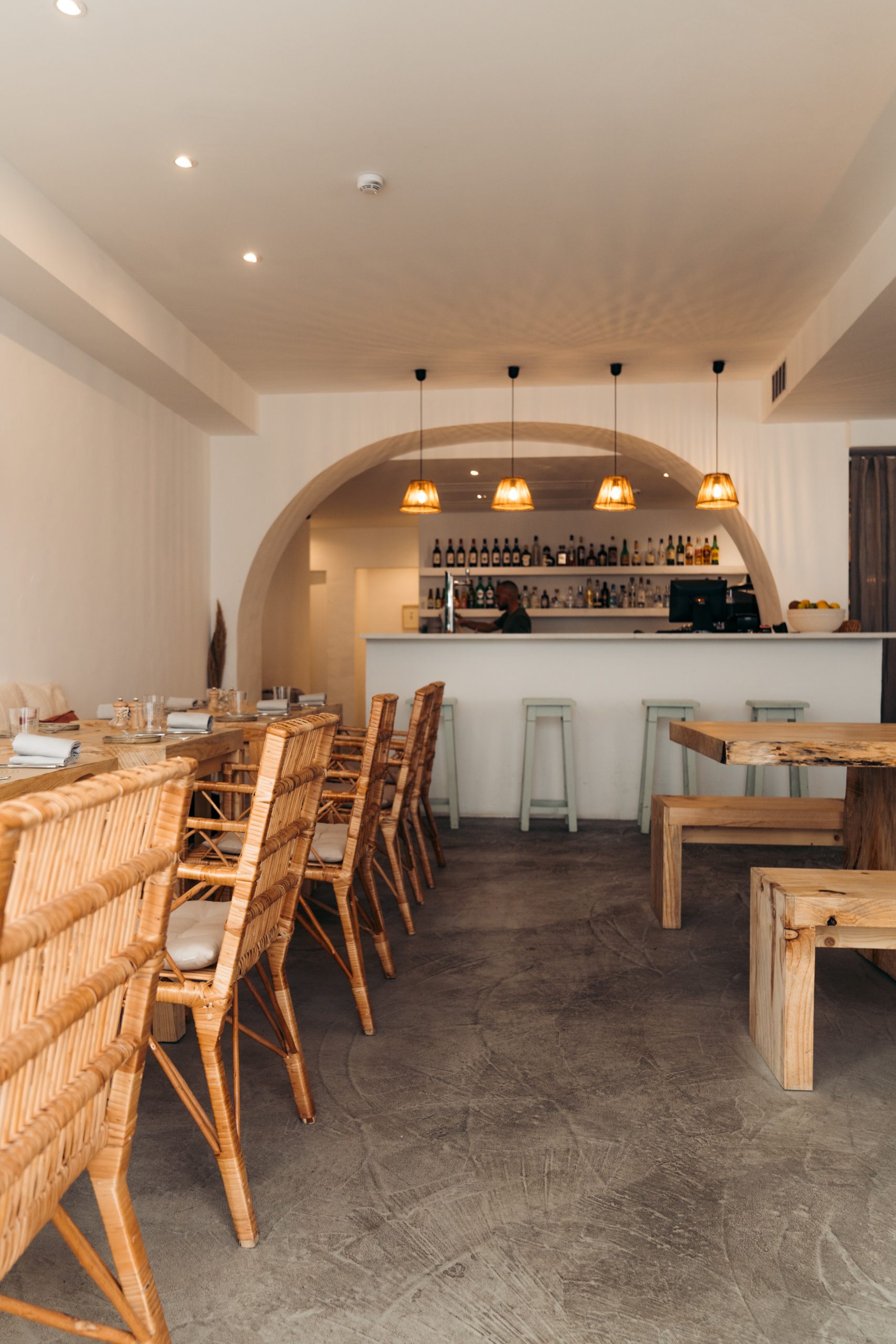 Amazing restaurants located in the city centre of Funchal
'Terra Food Concept' is a multicultural and vegan restaurant in the heart of Funchal. Jorge and Dawid mix their knowledge, experience and tastes from all over the world with local Madeira specialties. Starters cost around €10 and main courses around €15.
𖡡 Rua do Bispo, 12 in Funchal City Center
TIP: Try the delicious cocktails!
'Prima Caju' focuses on wholesome and nutrient ingredients on their menu. You can make your own bowl from fresh and healthy ingredients starting from 6.5€. 
𖡡 Rua Carreira No 108, Funchal, Madeira 9000-042 Portugal
TIP: The 'Prima Caju's Brownie' is my absolute favourite sweets there
'ThreeHouse Restaurant' serves all day brunch, lunch and dinner. With an exciting but balanced palette, Chef Mauricio Faria's menu pairs farm-fresh Madeiran ingredients from the market below with a fusion of world flavors. Menu varies between 10€ and 30€.
𖡡 Rua Brigadeiro Oudinot nº 2 3rd Floor, Funchal, Madeira 9060-209 Portugal 
TIP: Ask for the chef's table for dinner. Don't forget to check out their rooftop bar!
An ARTsy café
'The Art Corner Café' situated in the centre of the art district of old Funchal, right in the heart of the International Art Center Caravel. Their concept of food and drinks guided by the same rules as art, makes it a beautiful and cozy place to enjoy some drinks and food in a colourful environment. Savoury and sweet bowls are starting from 8€.
𖡡 Rua Dom Carlos I 20, Funchal, Madeira 9060-051 Portugal
TIP: Their menu offers a lot of vegan options! 
Typical Madeiran Expierence
'Abrigo do Pastor' is located at around 1000m in the district of Camacho (20 min drive from Funchal). It is well known for its 'Espetadas', cooked meet served on skewers. Grilled meat starts from 15€. Vegetarian options are around 6-10€.
𖡡 Estrada das Carreiras, Camacha 9125-080 Portugal
TIP: Make sure to reserve a table as it is most of the times booked out.